News

HeartKinetics develops solution for daily home cardiac monitoring
There are 121 million people living with cardiovascular disease (CVD) in the US and 49 million in the EU. Congestive heart failure (CHF), which may be caused by coronary artery disease, hypertension or valvular heart disease, among others, is the most common end stage of CVD and represents up to 3% of total healthcare expenditure. Yet currently, patients may only be monitored in hospital a few times a year and in between are left uncertain and anxious.
What if these patients could easily perform a cardiac function test at home in only two minutes, saving time travelling to the hospital and receiving more frequent analysis? That is the aim of HeartKinetics, which has designed the Kinocardiograph (Kino) to fill this gap.
There are two Kino prototypes. One is an app that measures myocardial activity through a smartphone's own motion sensors. HeartKinetics aims to have this available in the Apple and Android stores in July. The second is a medical device consisting of two units, one of which is placed on the chest and the other on the lower back. After an initial calibration by a cardiologist, patients can take measurements at home in under 45 seconds and transmit them for diagnosis via a smartphone or tablet. This provides accurate assessment of both the mechanical and electrical myocardial functions, together with hemodynamic parameters.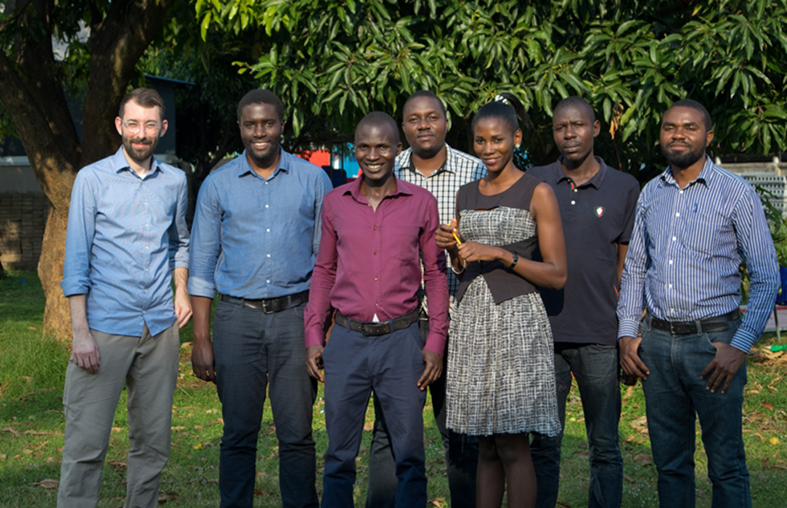 BREAKTHROUGH MEDICINE POWERED BY SPACE
The majority of hospital admissions for CHF are re-admissions. Approximately 22% of people discharged from hospital with heart failure are readmitted within 30 days. As a consequence of damage to the heart, the heart loses its ability to pump effectively.
Evaluating the prognosis of heart failure usually requires trained healthcare professionals and costly equipment. Today, more than ever, we need new ways to monitor patients remotely when they are discharged from the hospital, in particular providing telemonitoring of cardiac mechanical and electrical function.
Many everyday products have been inspired by R&D innovations from space agencies around the world, with space spin-offs particularly prevalent in the health and medicine sector. HeartKinetics has developed its Kino solution using over 10 years of research on astronaut cardiac function and its deconditioning in microgravity.
Far away from a trained cardiologist, astronauts require automated and easy-to-operate tools that provide an accurate overview of their cardiac function. For the cardiologist, it is essential to access assessments of both the heart's electrical/rhythm function, which is typically done with an electrocardiogram (ECG), and the mechanical function, which usually done with echocardiography. Although there are many ECG wearables, there is no such solution for the mechanical function assessment of the heart. The Kino was developed to fill this gap and HeartKinetics is now incubated at ESA BIC Belgium to further develop its strategy to bring the Kino to market.
LIFE-SAVING TECHNOLOGY
The Kino is a non-invasive telemonitoring solution based on a calibrated measurement of the kinetic energy of the cardiac contraction in linear and angular dimensions. The Kino smartphone solution uses the smartphone's accelerometers and gyroscopes sensors which, when placed on the chest, can record myocardial contraction efforts and rhythm. The Kinocardiograph portable device allows both local and global mechanical cardiac activity assessment, together with a regular ECG.
Kino shares information about a patient's cardiac health status with all members of the multidisciplinary medical team to optimise follow-up, especially after worsening heart failure.
The Kinocardiograph device has already been used in clinical trials in the Netherlands and Belgium. Now, in response to the new challenges caused by the COVID-19 pandemic, HeartKinetics has accelerated its development plan, including implementing essential security technology from Swiss company PrYv to ensure data privacy and security. A pilot study will start in July 2020, with over 500 patients in Belgium and the Netherlands using the smartphone app to help healthcare teams maintain their regular care offering in the difficult context of lockdown, while clinical teams will trial the medical device prototype at cardio consultations.
In 2017, HeartKinetics won the European Heart Rhythm Association (EHRA) Inventor Award, with other recognition including selection for the Alpha programme at WebSummit 2019. Organisations including YesDok, Tessan, Bodyo, Altericare and Doctoranytime have all expressed an interest in Kino as a solution that could revolutionise cardiac function telediagnostics.
ABOUT ESA SPACE SOLUTIONS
ESA Space Solutions is the go-to-place for great business ideas involving space in all areas of society and economy. Our mission is to support entrepreneurs in Europe in the development of business using satellite applications and space technology to improve everyday life.
Our programme is designed to provide multiple entry points such as ESA Business Incubation Centres (ESA BICs), ESA Technology Broker Network, and ESA Business Applications programme. Funding typically ranges from 50KEuro to 2MEuro and supports everything from space technology transfer, early stage incubation programs, feasibility studies to large-scale demonstration projects.
Last updated at 13 August 2021 – 13:34